I originally published this opinion piece in 2015 on Noobgrind, a computer game website, but since that has gone I'm posting it here. Whilst the original article's focus was about computer games, this article is more about my influences, how old games led me to martial arts and my RPG designs. Part 1 = https://batjutsu.wordpress.com/2019/11/18/way-of-the-exploding-fist-lookback/
This is the third article in the series exploring the impact of the game Way of the Exploding Fist (Commodore 64) had on me, and the path it lead me down. Due to my dad's interest in computing I'd had access to decent home computers as well as a big collection of games for years, and in 1987 he bought an Amiga 500 resulting in me being given the C64 all to myself; a couple of years later I was given the Amiga. Due to living in a seaside resort I had access to many arcades, but I only had a tiny amount of pocket money. So when I visited the arcades with my mates I generally watched, preferring to save what little pocket money I had towards buying a new computer game.
The first arcade game I felt compelled to play was Teenage Mutant Ninja Turtles (TMNT), even though it was just a variation on such classics as Double Dragon, it was different, because it was TMNT! So that anomaly was understandable to me, since I was such a fan of the cartoon, but I was quite surprised to be hit by the virtual tsunami that was Street Fighter 2 (SF2) in 1991. The first Street Fighter (SF) looked okay in the arcades, I'd never played it and in retrospect it seems odd that I don't recall anybody ever mentioning it at school; the 8-bit version of SF on the C64 looked horrid.
After playing a few games of SF2 I was horrified to find out that somebody else could join in beat me and take over, since I had limited funds I was not keen on this design approach. I also quickly realised the financial implications of trying to figure out hidden moves. My paper-round money was already failing to cover my three main hobbies: computer games, tabletop role-playing, and wargaming, so I made the sensible but frustrating decision to watch other people play SF2, and like my days watching Way of the Exploding Fist, maybe I'd learn, but without the financial cost. I got to see some pretty spectacular players who'd said they spent quite a lot of money getting that good. Watching helped me develop a better understanding of the depth of the game, but it also gave me an appreciation of the calibre of opponents that could easily beat me. In 1993 I finally got to play the game lots when a friend got SF2 for his Sega Mega Drive.
I had an appreciation of the diverse martial art styles that SF2 included. Although the game included mystical abilities, it was cool see how they had integrated them into a characters martial arts style, enhancing them without commandeering them. Granted the plot of SF2 was extremely simple, but it didn't matter, as the playability was exceptional.  In 1992 I was introduced to Mortal Kombat (MK), which was an impressive evening of watching a crowd of people challenge each other. Personally I preferred the more in depth fighting in SF2, but I quickly became a fan of the MK game and universe; not that MK was an amazing story, but it seemed to have more to it, and in particular Outworld, it felt more fleshed out that SF2. Mentioning that SF 2 story is simple is a bit obvious, but the reason why I mention this is that a few years later this concept is flipped for me, when in 1994 a tabletop role-playing company called White Wolf released a role-playing game called Street Fighter (SFRPG).
The Street Fighter universe had been expanded in manga and anime. My friends and I particularly enjoyed Street Fighter II: The Animated Movie (1994). Like a lot of popular settings (IP), lots of things get produced, adding ideas and variety to the original idea; although not always a good thing.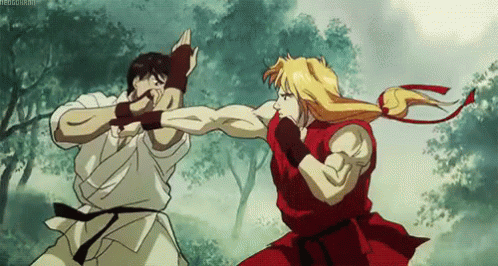 At the time White Wolf was known for its flagship game Vampire: the Masquerade, one of the many games set in the World of Darkness; I was an avid player and collector of these games. In the various World Darkness games, players could play characters (monsters) with incredible powers. The games tried to focus on storytelling and role-playing; a character's story was the priority, not their powers; of course some groups focused on the power, not that there is anything innately wrong with that the group agrees. So upon acquiring SFRPG I was not surprised to find that the designers had managed to lay the foundations for an interesting gaming world based off the simple SF2 story. I am not claiming that White Wolf had written a masterpiece of world building, instead they had captured the essence of what had made the Street Fighter series so good. Although a gaming group could do whatever they wanted, the base focus of the game was all about a fighter's journey to improve, set in a world of rampant crime and obscure mystics.
Typically the initial response to the RPG was a quick list of surprise comments, followed by ridicule, followed by questions. I was the Games Master / Storyteller (GM / ST) for several groups, and I also chatted with several other gamers at my local gaming shop, so I got to talk to a lot of people. My answers highlighted how intriguing M. Bison's Shadoloo was, how similar to other secret societies/criminal empires, asking them what they thought Bison was up to. I'd explain an important game mechanic, that characters used Chi to activate certain powers, they could gain Chi points back by making Honor rolls. So if Bison had no honour, how could he regain Chi? Many role players I spoke with were willing to give the game a go, and generally they quite enjoyed it.
Over the years I have run several SFRPG campaigns, all were fun and some were even good. I think it is noteworthy to consider that the majority of people know little to nothing about martial arts in real life, and even those that do know some things tended to only trained for a few months. What is great is that SF2 had educated its players enough that they know what different styles roughly look like, as well as what sort of techniques are used; granted SF2 added fireballs and the like to the mix, but did so without ruining the martial style. This SF2 education was an interesting bonus, as it generally affects a player's ability to role-play better, since it reduced learning a setting, combat and powers. I loved that many SF2 players trying out SFRPG were pretty much veterans when it came to describing their character's attacks, and understanding what was happening in a detailed fight. The combat mechanics in the role-playing game were surprisingly effective (but not perfect). They allowed players to quickly learn how to play, and with the combat cards a bout could be carried out quite quickly, all in all, very efficient just like SF2. Interestingly the combat mechanics had some key differences to the other World of Darkness games, a few years later an optional book was added to the World of Darkness beautifully entitled Combat.
I was disappointed with how the Combat book mostly handled Mage: the Ascension. Effectively it did not add anything, suggesting Mages can perform True Magick like Stunts is IMHO pointless, since that is what a Mage game is basically like anyway. I do understand why this approach was taken, I am not saying it is worthless/garbage, just disappointing to me. Whilst there are a few special maneuvers for a character with Do 3+, which was nice, but, since Do was basically an Akashic Brotherhood (now: Akashayana) special skill. I think this approach sadly reduced a setting with infinite potential and options to cliché views of 'Asians are best at martial arts', ignoring the numerous world cultures with exceptional fighting systems, and the commonality of violence and the human body. This is partly why I have experimented with various ways of integrating the SFRPG mechanics and Combat Cards with other games, my own games, and for the last few years Mage.
Debates about tabletop role-playing game systems is a major part of that hobby, mechanics matter and add to that so much of what we know is from movies/games/books and not personal practice. The designers of any role-playing system need to acknowledge the fact that truly simulating reality is far too complicated, never mind the fact that so much is not understood, therefore a game needs to be easy to understand, and usually quick to play whilst not sacrificing too much realism. My point linking back to the previous paragraph about game accessibility, reducing player learning requirements, and helping players understand game events, I think overall SFRPG did a great job.
I personally found the core rules for SFRPG to be overall good. Whilst the expansion books introduced new great things, unfortunately it also added some garbage into the game. In interviews it has been explained how rushed the game line was, sadly this shows, which is a shame because if more time had been given to the designers some of the garbage would likely have instead been more great additions. The most famous example is the: Cartwheel kick, in was so clearly broken it took most players only a few seconds to figure out that it was godly. Likewise the magic shows in Savate. This lack of playtesting stands out, and is a disgrace to the quality of SF2 combat. Fortunately all role-playing game mechanics can be altered by groups introducing house rules, and generally a veteran gaming group can run a good campaign despite any rubbish game mechanics or bad story/world design. Having worked at a games company I have a good appreciation for the difficulties of hitting deadlines, costs of running a company and how easy it is too miss things, which is why playtesting is so important. Ideally a product should have as few problems as possible.
A call back to the previous article regarding Gene Lebell and Bruce Lee. It is a shame that Mixed Martial Arts (MMA) had not happened decades earlier. So many RPGs could have been fixed in regards to the martial art clichés. This is one of the interesting things about Street Fighter 2, for all the made up and fantasy aspects, the game has a diverse range of fighting techniques shown; granted no ground game, but at least grappling is a core part. I think this has helped SFRPG stand out against other RPGs, for example Palladium's Ninjas and Superspies. The Contenders expansion added many styles and maneuvers, of particular note is groundfighting, but there are other gems like Chi Push.
The SFRPG rulebooks were full colour, which was very unusual for that time. Although the books had a distinctive White Wolf design with the flavour text and story snippets, the layout of the SFRPG books were more exciting/dynamic looking than their other games. The artwork was mixed, whilst some pieces were great, others were less so.
Character creation was quite straightforward, particularly for players familiar with other White Wolf games. Choosing a character's special moves list was an interesting and fun part of the process, since it would be a major part of the character's abilities and development. Interestingly the game encouraged players to declare the names for their moves, just like Hadoken in the computer game. Whilst not everybody chose to do this, nobody complained about it being silly, I put this down to the fact that SF 2 had taught players that this was a somewhat normal the thing to do.
Even after writing several of the negative points about the tabletop RPG, I still think that overall the core SFRPG was brilliant, providing players with a great toolset to explore the intriguing world of SF2. Along with the animated movie it is nice to know that some game tie-ins aren't complete garbage. Whilst there have been other good martial art role-playing games, my players and I still fondly recall many great Street Fighter gaming sessions and rate it as our favourite of the genre. Every few years we play it again, playing with new ideas and house rules.
The Street Fighter series has millions of fans, but a few of us crave more than just the fights. We are also nostalgic about the espionage of the World Warrior circuit, rising up in rank, to more epic stories of training under Ryu, discovering new/lost techniques, and I suspect in a few cases usurping Bison to take over Shadoloo! I'd love a great computer RPG set in the SF world, whilst I doubt that will happen, maybe one day soon.
From Way of the Exploding Fist to Street Fighter RPG 3 part series
Part 1 = https://batjutsu.wordpress.com/2019/11/18/way-of-the-exploding-fist-lookback/
Part 2 = https://batjutsu.wordpress.com/2019/11/18/fist-2-exploring-mystical-fighting/
Part 3 = https://batjutsu.wordpress.com/2019/11/18/a-fist-full-of-dice/