I originally published this opinion piece in 2016 on Noobgrind, a computer game website, but since that has gone I'm posting it here. Whilst the original article's focus was about computer games, this article is more about my influences, how old games led me to martial arts and my RPG designs. Part 1 = https://batjutsu.wordpress.com/2019/11/18/way-of-the-exploding-fist-lookback/
Continuing on from my previous article TODO about my favourite 8-bit fighter, the amazing Way of the Exploding Fist, or Fist for short. The follow-on to that gem is Fist 2: The Legend Continues (1986), which took the then brilliant animation and clean fighting system of Fist and made a quite different game. This new direction split the fans of the first game, since some people just wanted Fist with extra features and improvements. Thankfully for young me, Fist 2 was everything I didn't know I wanted, adventure with some depth. Castlevania and Metroid were both released in 1986; interestingly Fist 2 can be considered a basic Metroidvania.
A crucial combat mechanic difference between Fist and Fist 2 was the introduction of a health bar; this was probably an influence from Yie Ar Kung-Fu. Otherwise combat had the same depth as Fist.
Exploration had been added in to the mix of Fist 2. I imagined that all the time I had spent playing Fist had really been preparation for this new game. That my character was now leaving the temple, exploring the wider world and utilising all that training to defeat real enemies. That the stakes were higher, the fights were not just friendly sparring matches. I am sure a lot of people can relate to the idea/feeling they got when playing the GTA series; the freedom of a sandbox world with some depth, plus also the visual depth and in particular the jump from GTA 1 or 2 to GTA 3 and later games.
Whilst it is true that there had been exploration games that included fighting before Fist 2, they were done in a limited way, such as the Bruce Lee video game on the C64. Okay, a quick tangent since I wrote in the last article that Bruce Lee hadn't been a big impact as a kid. Firstly I didn't see any of his movies until a few years later; then they had an impact. The Bruce Lee game came out in 1984, but it was really a platform game with two attacks. Even at the age of 8, the game's plot seemed randomly thrown together, it was quite poor; granted back then the vast majority of computer games plots were not considered important, but a good one helped. The problems were: the game was too easy, lacked game depth, and was not really a fighting game. At least the movement of the character was good, feeling both responsive and quick.
In the playground at school, Bruce Lee's name was used all the time, so I had a vague idea of who this person was, despite him dying the year that I was born. To have his name associated with what could barely be called a fighting game was odd to me, even considering how young I was. In these days we were used to the idea that games with film or celebrity tie-ins are nearly always garbage; this is often still the case. Considering how many things over the years have metaphorically sucked the Chi from the Bruce's Lee legend, this game overview shouldn't be a surprise. Given what I have learned over the years about Bruce's diverse training, including with the incredible "Judo" Gene LeBell, who was effectively the first Mixed Martial Arts (MMA) fighter, it is another reason why the Bruce Lee game was such a disappointment.
There were also several side scrolling beat 'em ups over those early years, but they were not really exploration games. Whilst I did enjoy games like Kung Fu Master (C64 1985), Double Dragon (Arcade 1987), etc., I found them to be too simple, as they generally only had a few attacks. They were quite formulaic, because the opponents generally only did one or two things themselves, easily identifiable enemies allowed a player to recognise what attack type was incoming. These types of games were often about repeating the whole process to get a higher score and complete quicker; often completing the game quicker gave bonus points based upon how much time was left. Overall fun, but not as interesting as Fist 2.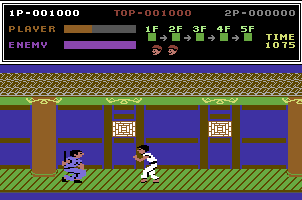 Before my tangent I had mentioned exploration. For me, the idea that a good fighting simulator could form the foundation of an adventure game was amazing. A step up from the classic text based adventures such as The Hobbit, Zork, Adventureland (Vic 20), etc.; fun but not as visually immersive. The idea that you could find and fight nuanced opponents was refreshing, plus it seemed more like the TV series Kung Fu, or the few martial art movies I had managed to watch. Also these were not like a 'boss fight', requiring a specific set of criteria to be performed, which typically made all the normal attacks effectively useless. Each one-on-one duel felt legitimate, since they had the full range of attacks that my character did.
In addition to enemies there were certain zones that had environmental obstacles that required a character to have more health in order to survive. Special scrolls (trigrams) were hidden away throughout the game that made a character tougher. Also temples could be found that allowed you to heal through resting, plus were used to activate scrolls. Some temples were locked away, and these required that the character have already found a certain number of scrolls to gain access to them. So between the combat, environment, as well as locked areas, the game promoted exploration in regards to trying to become as tough as possible; hence the Metroidvania association.
It's not that this game was innovative, it is more that this game was well done, as well as followed up on a game I adored and meant a lot to me. Fist 2 helped form a huge part of my life-time interests. It was years till I played another good martial arts exploration game that had a big impact on me; that game was Oni, although that game received mixed criticism, I loved it. It was a few years later when another game hit that sweet spot for me, with Jade Empire. A special mention goes to Tenchu: Stealth Assassins, even though the core of that game's design is stealth.
Whilst there have been lots of excellent games over the years fulfilling exploration and role-play, for some reason it is rare for those game types to be mixed with empty hand martial arts, and theme matters.
A few years after playing Fist 2 I went to high school, at aged 11 I was introduced to Dungeons & Dragons (D&D) and the role-playing games (RPG) in general. I loved RPG, like most role-players in part because of reading The Hobbit and then Lord of the Rings, but also because I wanted to play the wandering martial artist, like in the TV show Kung Fu or the game Fist 2. This would lead me to one of my favourite games Street Fighter 2 (SF2) and later SFRPG.
From Way of the Exploding Fist to Street Fighter RPG 3 part series
Part 1 = https://batjutsu.wordpress.com/2019/11/18/way-of-the-exploding-fist-lookback/
Part 2 = https://batjutsu.wordpress.com/2019/11/18/fist-2-exploring-mystical-fighting/
Part 3 = https://batjutsu.wordpress.com/2019/11/18/a-fist-full-of-dice/